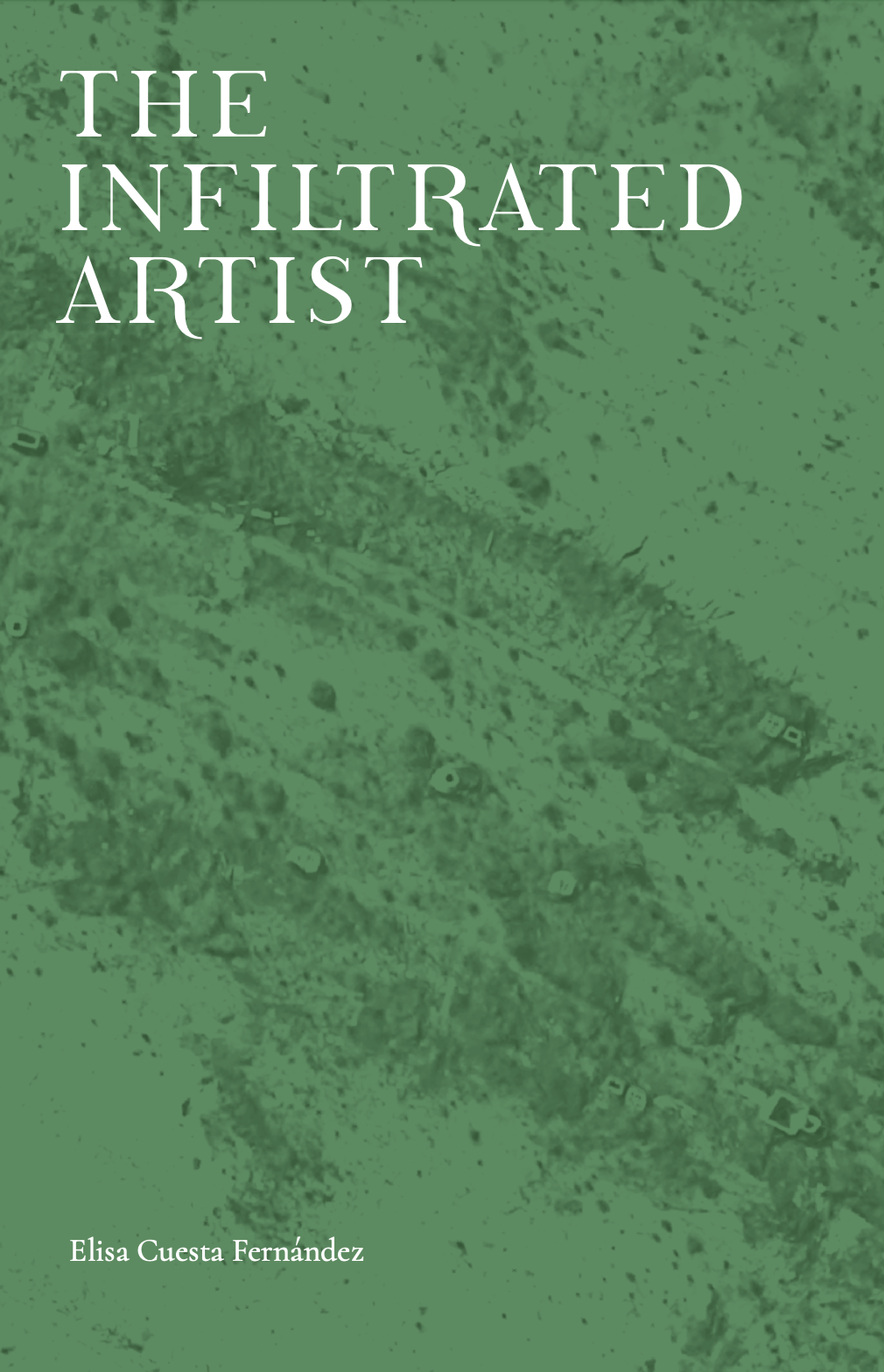 The infiltrated artist
on the poetics of infiltration and its possibilities for artistic research
Elisa Cuesta Fernández, 2022
Supervisor: Jasper Coopes
Master Artistic Research. Royal Academy of Arts The Hague (2022)
* On sale! Printed version available upon request (limited edition).
Send me an email to elisacuestafernandez@gmail.com
A scenic route to self
Collaborative publication on occasion of the exhibition 'A Scenic Route to Self' at NEST, The Hague
Master Artistic Research. Royal Academy of Arts The Hague (2022)
Graphic design: Studio Budino in collaboration with participating artists
Design workshop: Elisa Cuesta and Renata Mirón
Reading Days –  Keywords 2020-2021
Waywardness and Artistic Research: Speculation, Skepticism, Difference
Texts by Elisa Cuesta:
Aesthetic education (p. 14)
Beauty (p. 42)
Allegory – Drawing the line (p. 68)
Aberrant Movements (p. 110)
The courage to love (p. 202)
Twinkling (p. 248)
Master Artistic Research. Royal Academy of Arts The Hague (2021)
Editors: Elisa Cuesta Fernandez, Shardenia Felicia, Xenia Klein, Haevan Lee, Renata Miron Granados, Eva van Ooijen, Clara Pallí Monguilod, Noortje Remmen, Balint Revesz, Emily Stevenhagen, Omid Thorkkheirabadi, and Rosa Walbeek
Final Proofreading: Emily Stevenhagen
Book Design: Renata Mirón
Illustrations: Haevan Lee
Read online [EN]
The practice of Art and AI
Skeens, Elisa Cuesta (p. 117)
A.I.R., Multiplay (Elisa Cuesta, Pedro Arnanz, Victoria de la Torre) and Autumn Brown (p. 269)
A.I.R.: From Radical Individuality to Connected Subjectivity
Elisa Cuesta, Victoria de la Torre, Pedro Arnanz
Temes de Disseny 37 (2021)
Invisible Conflicts: A New Terrain of Bodies, Infrastructures and Information
Guest Editors: Bani Brusadin and Laura Benítez Valero
Read paper [EN / ES / CAT]
Can we collectively influence the systems that surround us?
Autumn Brown & Multiplay (Elisa Cuesta, Victoria de la Torre, Pedro Arnanz)
CR(IA)TURAS Imaginadas
Elisa Cuesta, David Mingorance, Victoria de la Torre, Stef Silva
Matadero Estudios Críticos. Vol. 2 (2021)
Freeport: Anatomías de una caja negra
Editor: Bani Brusadin
Read publication [EN / ES]
Festival Tentacular: Voces amplificadas
Elisa Cuesta Fernández
HYPERFILTER: proyecto de innovación educativa de Hypermedia (2020)
Editors: Atxu Amman & Eduardo Roig (Universidad Politécnica de Madrid)
Download publication [ES]
30 MAPPA: 
Muestra de Artes Plásticas del Principado de Asturias 2019
Elisa Cuesta, Dela Delos, Juan Falcón, Mon Cabrales, Jorge Fdez. Valdés, Noemí Iglesias Barrios, Ignacio González Izquierdo
Comisario: Luis Feás Costilla
Instituto Asturiano de la Juventud. Gobierno del Principado de Asturias (2019)
Texts: Clara Sierra Caballero, Jaime Luis Martín, Luis Feás Costilla
See catalogue [ES / EN / FR / AST]
SKEENS: Interfaces encarnadas para las identidades digitales
El textil como narrativa de un presente expandido
Elisa Cuesta Fernández
Master in Advanced Infographics. Universidad Politécnica de Madrid (2018)
Supervisor: Luís Emilio Mesejo Salas
Read document [ES]